littoral chair research project
Fostering Indigenous Small-scale Fisheries for Health, Economy, and Food Security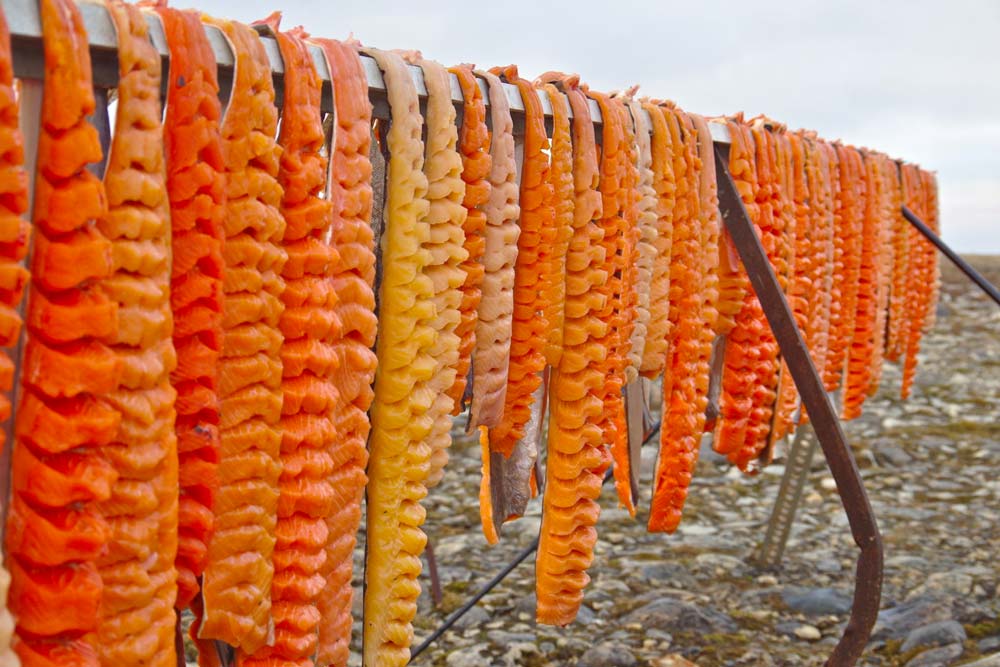 Food insecurity is a major problem in Canada's North: compared to the national average, food insecurity is twice as high in Aboriginal off-reserve households and four times as high in Nunavut. In addition, climate change, marine traffic, tourism and mineral exploration put northern aquatic biodiversity and fisheries at risk. These socio-economic and environmental stressors have important implications for northern communities, where fisheries provide quality food and income, and support traditional customs and practices. Therefore, it is crucial to reduce the negative impacts of these stressors which could affect northern fisheries and the communities that depend on them. Identifying key areas for commercial and subsistence fisheries, better understanding how fish populations are genetically distinct, and examining the importance of fish for the health and well-being of northern communities, are important steps in supporting sustainable fisheries and food security in a context of rapid changes.
Develop and apply genomic approaches in conjunction with traditional ecological knowledge to address the challenges and opportunities related to food security and commercial, recreational and subsistence fisheries among Aboriginal peoples in Canada's North (Inuit, Cree, Dene)

Develop genomic resources for six species that are important for northern communities, and use these resources to target genetically distinct populations, assess their vulnerability to future climate conditions, quantify their contribution to mixed population fisheries, and measure the proportion of fish from hatchery programs that are harvested in subsistence fisheries

Encourage the co-production of knowledge to understand the importance of fisheries in communities, and to support the development and co-management of sustainable fisheries

Improve the ability to predict the effects of environmental and socio-economic changes on fisheries of importance to northern Aboriginal communities, and their food security.
Funded by
Principal investigators
Louis Bernatchez (Laval University)

Jean-Sébastien Moore (Laval University)

Dylan J. Fraser (Concordia University)

Stephan Schott (Carleton University)
Co-investigators
Monica Mulrennan

Mélanie Lemire

Tiff-Annie Kenny

Louise Chavarie
Partners
Fisheries and Oceans Canada (Les Harris, Xinhua Zhu, Kimberly Howland, Ross Tallman)

Ministère of Forests

Wildlife and Parks, Québec

MFFP  (Julien April, Julien Maingui)

Nunavut Government (Janelle Kennedy)

Cree Nation Government (Nadia Saganash)

Niskamoon Corporation (Marc Dunn)

Eeyou Marine Region Wildlife Board (Angela Coxon)

Cree board of health and social services (Marie-Jo Ouimet)

Cree Trappers' Association (Clark Shecapio)

Cree Nation of Mistissini (Pamela MacLeod)

Cree Nation of Waswanipi (Steven Blacksmith)

Makivik Corporation (Lilian Tran, Mark O'Connor, Laurie Beaupré)

Nayumivik Landholding Corporation (Philippe Poulin)

Carleton University (Fraser Taylor)

McGill University (Ioannis Ragoussis)

NWT Metis Nation (Quentin Steinwand

Sahtu Renewable Resources Board (Deborah Simmons)

DehCho First Nation (George Low)

Deninu Kue First Nation (Kathleen Fordy)

Deline Renewable Resource Council (Edwards Reeves)