We believe in sharing and discussing research findings with our partners and the communities involved in the Chair's projects. This is crucial for successful collaborations, and will strengthen the capacities and decision-making powers of today's and tomorrow's local leaders.
Below, you will find a selection of activities, documents and mobilization initiatives that we have carried out.
A Vision for Collaborative Research
Sara Bolduc, one of the recipients of the Chair's Éric Dewailly scholarship for knowledge mobilization in 2020, worked with Samuel Lagacé, a film-maker from Kuujjuaq, to produce this beautiful video on collaborative research in Nunavik and how to better involve youth.
Banning 'Forever Chemicals'
We put together a delegation of scientists and representatives from Inuit organizations  to participate in the 17th meeting of the Persistent Organic Pollutants Review Committee to the Stockholm Convention (POPRC-17), held in Geneva. Our mission? Banning long-chain PFCAs (also known as forever chemicals). After a week of presentations and negotiations, long-chain PFCAs have been successfully nominated for a risk assessment to be banned at the the international level!
Virtual Knowledge Mobilization for the Benefit of Science and Communities
This presentation provides an overview of initiatives and tools that we co-developed at the Chair during the pandemic to engage with communities and the public and to make our research more accessible, transparent, and useful. We are curious: what are YOU doing during the pandemic to engage meaningfully?
In the wake of the UN Decade of Ocean Sciences for Sustainable Development and Ocean Week Canada, we organized an interdisciplinary panel to talk about ocean-health linkages (with a focus on the St-Lawrence) starring Claudel Pétrin-Desrosiers, president of the Quebec Physicians for the Environment Association, Quentin Condo, Mi'kmaq musician and activist, as well as Dany Dumont, director of the Quebec Maritime Network.
This dialogue was moderated by Tiff-Annie Kenny and visually facilitated by Mylène Choquette. The Facebook event reached more than 1600 people, and is still available online!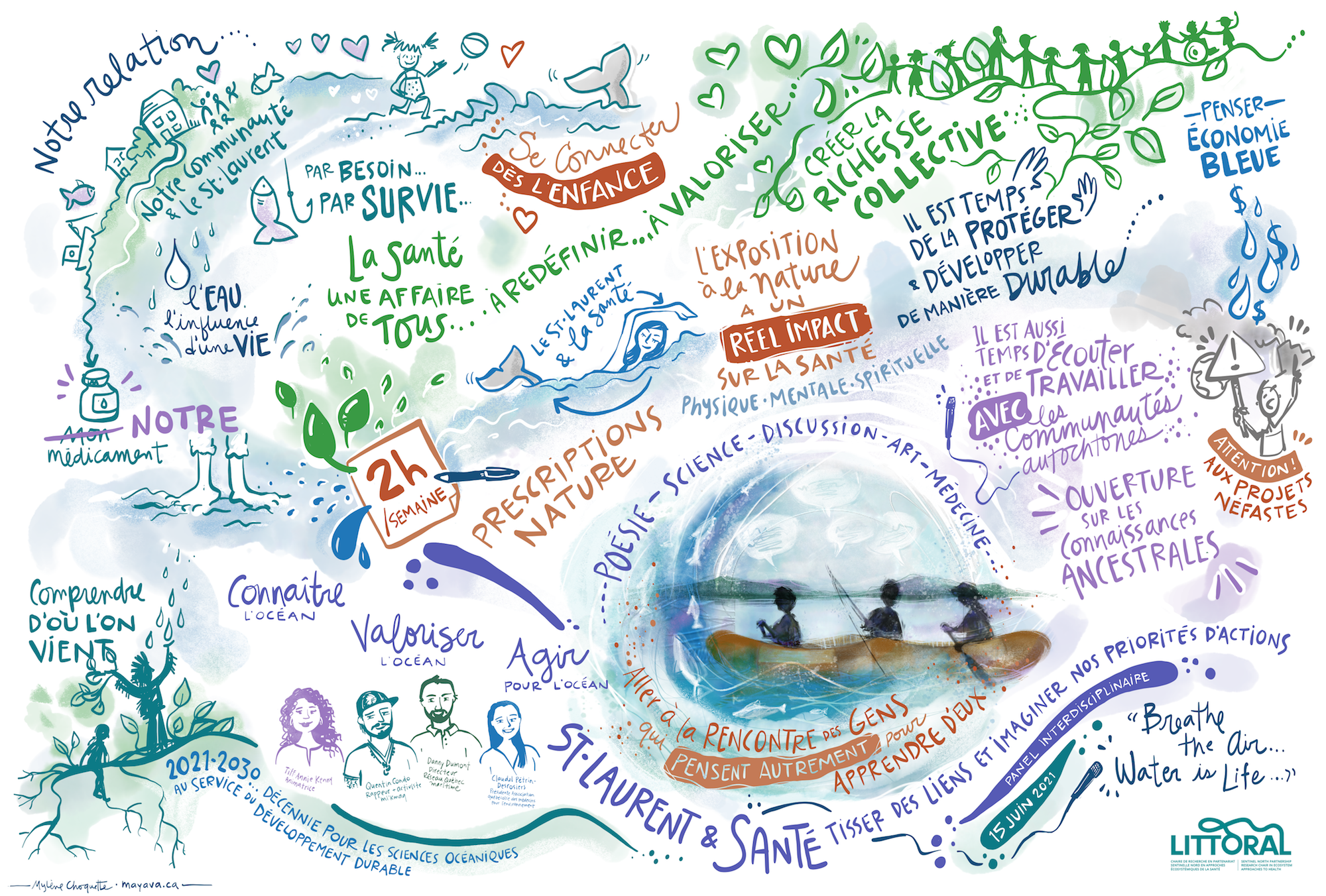 The panelists highlighted everyone's duty to protect the ocean and its health benefits by:
Connecting to the ocean from childhood onwards;

Recognizing the positive health impacts of natural coastal environments while also being mindful of harmful projects;

Learning from people who think differently and have a strong connection to the sea.
This is a short video we've put together with our interdisciplinary and intercultural team to talk about inclusive research in environmental health and collaboration with Indigenous and coastal communities – in English, French, Portuguese, German, and Arabic.
We prepared this short video to present the project and start a dialogue with the community of Quaqtaq as we couldn't travel there ourselves due to  Covid-19 restrictions. It helped us to get in touch with people in the community to work and develop the project together.
Environment and Schizophrenia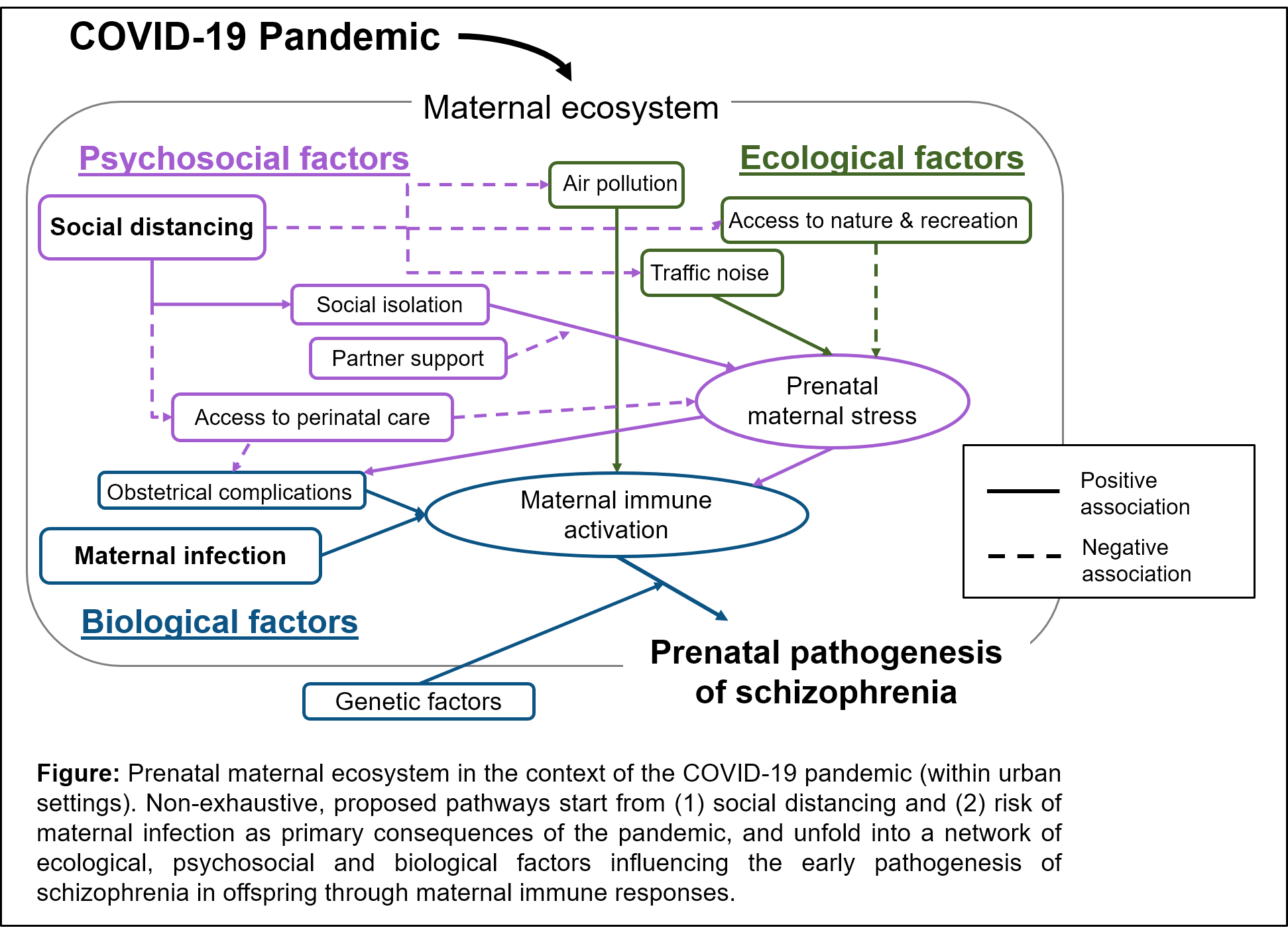 Figure from the letter 'Ecosystem approaches to the risk for schizophrenia' (Paquin et al. 2020). The COVID-19 pandemic affects pregnant women's environments in many ways, with potential effects on the risk for schizophrenia in their unborn children.
Positive association: An increase in one factor leads to an increase in another factor.
Negative association: An increase in one factor leads to a decrease in another factor.